Getting a Job as a Construction Project Manager
Getting a Job as a Construction Project Manager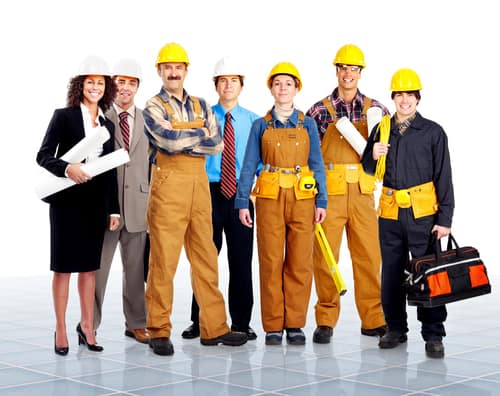 Do you like building and design, but think architecture involves too much drawing? Or that civil engineering involves too much math and carpentry involves too much manual labor? Then construction project management is for you.
Here's a list of the necessary skills and possible job titles in construction management:
Skills and Abilities
Successful construction project managers should have a wide range of skills and abilities to help them manage diverse teams and projects. A solid education is a great place to start, and certainly prepares you for the construction industry. However, there is no substitute for real-life, hands-on work experience.
Here are the skills, abilities, and required knowledge for construction management:
Understanding of the building process
Problem solving
Leadership skills
Strong communication skills and the ability to work with different groups of people, from project owners to tradesmen
Teamwork
Time management
Document management
Experience with finances and budget management
The ability to coordinate and oversee a project from start to finish
Computer skills and basic construction scheduling software knowledge

Construction Management Job Titles and Definitions
There are many different roles in construction project management, with some requiring a more technical background. Here are some of the job titles and their definitions:
Field Engineer/Surveyor

: A field engineer or surveyor supervises a crew of workers known as the "survey party." This party is responsible for staking out reference points and markers that will guide the construction process. Before any other work beings, the survey party must define the legal boundaries of the land where the work will be done.

Project Engineer:

A project engineer acts as the liaison between the project manager and the technical aspects of a project. He or she is usually the primary technical point person for the consumer and is in charge of scheduling, planning, and resource forecasting for engineering activities. In some cases, the project engineer is the same as the project manager, but the majority of the time, both roles share joint responsibility for leading a project.

District Construction Engineer:

The district construction engineer manages the activities of the technical services department, including engineering, contracting, inspection, and more. He or she also coordinates with other departments and outside agencies. This position is also similar to a project manager, however it usually requires a background in civil engineering.

Project Coordinator:

The project coordinator assists the project manager in all day-to-day activities. He or she may act as the liaison between customers, subcontractors, architects, owners, and general contracts on active projects, maintain and monitor records, track budgets, and perform other general duties.

Project Manager

: The construction project manager supervises projects from beginning to end, making sure they finish on time and on budget. He or she plans all aspect of the construction process, including hiring contractors, negotiating contracts, setting budgets, complying with building and safety codes, and dealing with conflict.

Construction Manager:

Also known as a site manager, a construction manager is responsible for running and managing the construction site. He or she works closely with architects to go over blueprints, makes project timetables, determines material and labor costs, gathers permits, and schedules work on site.

Operations Manager:

An operations manager works in a large construction company that oversees many projects at once. He or she develops construction strategies and works with the project manager to manage resource allocation. He or she also works with civil engineers to create the quality checks that a project must go through before it is delivered to the owner.

Managing Sustainable Building Projects
"Green construction," focused on making structures more energy efficient and eco-friendly, is a huge area of growth in the construction industry. Green building refers to the effort to ensure that both the actual structure and building process are environmentally responsible.
Project managers overseeing a sustainable building project must understand how the project affects the environment, ensure that waste is properly disposed, find greener materials, and use efficient building methods. He or she must also understand environmental issues and environmental compliance in the area they are building. Many green project managers are required to have a working knowledge of documentation requirements for LEED (Leadership in Energy and Environmental Design).